Managed Services
Complete Computer Network Maintenance and IT Management Support for Businesses Throughout Glebe, Blacktown and Smithfield
Is Your Technology Unreliable And Slow? I just want IT support that I don't have to worry about! Have you ever thought that?
If so, Navigatum can provide you with IT Support and IT Management that can take your mind off technology in Sydney, Hills, Parramatta.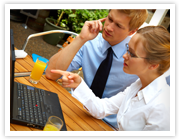 Managed Services from Navigatum mean we will:
Spend the time necessary to fully know your business, your budget and exactly what you expect to yield to your IT Support Services requests, not what we think you should have.
Deal proactively with computer support to prevent potential down time and data loss disasters from taking place, instead of reacting to the fire.
Stand firm on every recommendation our IT Consulting team makes, by promising 100% customer satisfaction, guaranteed.
"Improve your quality of life with IT Support that lets you put the focus back on running your business."
Navigatum is your partner in making sure your technology meets the unique needs of your business. Offering our servies to companies in Sydney, Hills, Parramatta, Glebe, Blacktown and Smithfield, our staff of experts can design a customized IT Management and computer network maintenance solution for your organization.
No matter if your business needs technology consulting, computer network maintenance services, IT management services, wireless networking, IT support, network consulting & integration services, network & server support, computer network installation, on-site & remote support, and wireless networking, we've got the solution.
Our team of professionals represent the brightest in the IT industry. With our knowledge and expertise, we can take the stress out of technology and let you focus on your business. Our computer network maintenance and IT Support experts are there for you, night and day.
---
Areas Covered
We provide a wide range of dependable Computer Support, Network Services and IT consulting to businesses throughout the Sydney, Hills, Parramatta, Glebe, Blacktown and Smithfield areas.
These team of highly efficient experts will even visit your business on-site: Glebe Computer Support, Blacktown IT consulting, Smithfield Network Services, Glebe Backup and Disaster Recovery, Blacktown Information Technology Consulting, Smithfield Cabling and Office Moves, and Glebe Anti-Virus and Security.