IT Consulting
Great value IT Outsourcing and IT Consulting plans for your business in Glebe, Blacktown and Smithfield
At Navigatum, we believe your technology solutions should be working for you, making your business a more efficient operation. If your IT creates more problems than it's solving, Navigatum's outsourced IT and Virtual CIO (Chief Information Officer) services can change all that, by simplifying your business and helping you to manage your IT budget more effectively.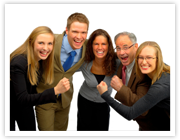 Our IT Consulting plans offer:
Tailor-made solutions to ensure you're receiving the most cost-efficient technology strategy.
Expert and comprehensive solutions for all of your IT needs.
Technology solutions your business can truly benefit from, with none of the unnecessary solutions you don't need.
"Our tailor-made IT services ensure you're benefiting from the technology your business needs and not wasting money on the extras you don't."
Let our IT support services demonstrate how technology can work to improve your business, instead of draining your company's valuable time and resources.
We offer small business server support, network solutions, computer security consulting, Virtual CIO services, IT Outsourcing, IT support services, IT outsourcing and tech support to the Sydney, Hills, Parramatta, Glebe, Blacktown and Smithfield areas.
---
Areas Covered
Providing cost-effective Network Services, IT Support, IT consulting and Computer Support in the Sydney, Hills, Parramatta, Glebe, Blacktown and Smithfield areas.
Bring our expertise to your office. We visit on-site: Glebe Computer Support, Blacktown IT consulting, Smithfield Network Services, Glebe Data Recovery, Blacktown IT Support, Smithfield Office Relocations, and Glebe Virus Removal.